We have just released two compatibility releases — one for Hex Editor and one for Hash / check-sum calculator. Now both are compatible with Microsoft newest operating system — Windows 10. And we have fixed one nasty bug in Hex Editor 64-bit version. It seems that Microsoft has begun using a new memory randomization algorithm, and Hex Editor crashed a lot on Windows 10 64-bit due to incorrect casting bug (truncated pointer).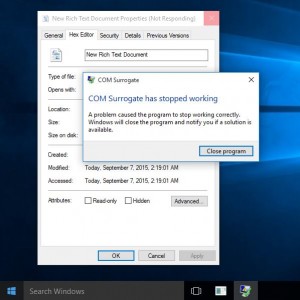 [Window Title]
COM Surrogate

[Main Instruction]
COM Surrogate has stopped working

[Content]
A problem caused the program to stop working correctly. Windows will close the program and notify you if a solution is available.

[Close program]
Latest releases available for Download from febooti.com.
Some screenshots in the gallery below…